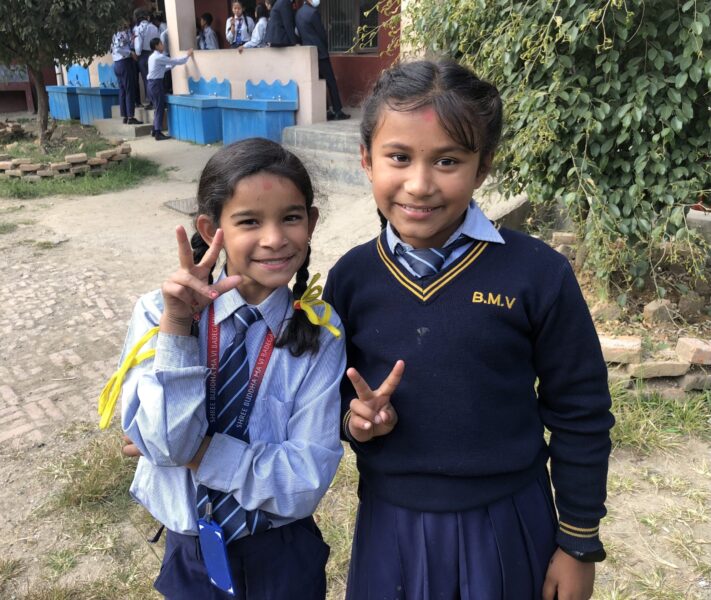 On day 7 we made the 45 minute drive out to Godawari Municipality, the location of Shree Buddha School where we were met by the principal of the school, Prem Pati Joshi to welcome us. We then had an introductory meeting with the principal, the former principal, an english teacher, the school accounts manager, and the chair of the PTA before commencing our tour of the school.
The school is quite a large one with around 750 pupils and 26 teachers and 4 admin staff catering for all years from ECD (Early Child Development) right through to classes 11 and 12. Janet and I were then taken on an extensive tour of the whole school ranging from the kitchens where tiffin was being prepared, the first aid room, all of the classrooms and the computer and science labs. The school seems to be a very progressive one with it's own school nurse and a specially qualified teacher that had a class of 5 children, three with Downs and two with autism that they call the inclusive class. The principal is very proud of his school and the pupils and staff and everybody was very grateful for the contributions that KIKN has made in purchasing computers, science lab equipment, class furniture and a photocopier, which has proved invaluable (especially during Covid). KIKN is contributing to feeding 150 children per day and we were thanked especially for the Food Aid Programme help during Covid lockdown.
We then went back to the principal's office to have a snack of a cup of chai and a boiled egg and biscuits (see the photo below) to be given some future spending proposals from the school and finally finished our visit with a group photo of us with all the staff in the school yard. It was a very rewarding visit and enjoyable at the same time and so important for me to be able to visit for the first time.
Comments
comments