Projects that KIKN is involved in
Shree Neel Barahi Higher Secondary School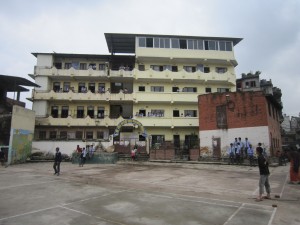 It is a big secondary school with 700+ pupils, from nursery class up to A-Level standard. The children aged from 4 years-17 years of age. KIKN has been able to improve the facilities and infra-structure to  enable the children to reach their potential.
35 computers have been purchased in January 2013, thanks in part to Futures For Kids to make it happen. Similarly, the installation of the Solar Panels  to keep the computers working during power cuts was made possible by another grant from Futures For Kids.
Dancing, Karate and English tuition class  were introduced in 2011. Resources were increased to enable more children to take part in the various activities.
KIKN contributes towards .5 of a computer teacher's salary.
A breakfast club was started in 2012 with 100 children benefiting from it.
Through working together, KIKN has been able to send its first university student in June 2014. She is doing Chartered Accountancy, a four and half years' study. We wish her every success.
Jana Sudhar Lower Secondary School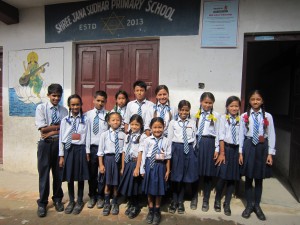 This modest school with just under 400 pupils is situated in one of the most deprived area in Kathmandu. It caters for a very mobile population, many of whom are refugee children from Tibet and  the remote mountainside. The main challenge for the school is meeting the needs of the children in every class where the ages of children vary widely and with different starting points. A 7 year-old could share learning with an 11 year-old (who has never entered a class room before).
Seat cushions and desks were made and delivered to the nursery class. There were  30 children in September 2012, it was increased to 50  by the time the cushions and desks were made. It demonstrated the scale and speed of migration in and around  Kathmandu.
Floorings/carpets for the large nursery room were fitted so that the little children need not sit on the cold floor in winter. There is no heating in Nepal in winter.
2 computers and desks, together with a music centre were purchased as part of improving the facilities in the school.
A breakfast club was started in January 2014 to enable 80 young children to start their school day well.
KIKN supported the school to furnish and equip their first school library in April 2014.
Additional 30 desks and chairs were made for the senior classes to accommodate the increase in numbers.
Lubhoo School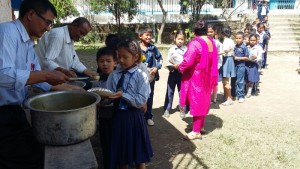 In January 2016 we received a very generous donation from Dr and Mrs Eric Fellows, the sponsors of two of our children, and we were able to include Lubhoo School in our project plan for the year. Our newest supported school is situated in the Lalitpur district of the Kathmandu Valley, a poor village some 7kms from the capital city (but 13kms via potholed roads). There are 220 children aged from 3 to 16 years, from Nursery class up to year 10 (Fifth form). It is staffed by a Headmaster and 28 staff and helpers. It is a state school with basic facilities. Together with a grant from Futures For Kids, we were able to purchase 20 computers together with desks and chairs and the solar panels needed to keep them working.The school has also made the computers available for the local population to use as well.  The extra funding also enabled us to set up a much needed breakfast club for 100 children at the school. KIKN now also sponsors 7 children from the school.
Ishwor Adharbhot School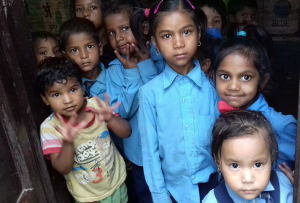 This little school sits in the most deprived area of Kathmandu. In September 2016, when the Chief Officer was introduced to this school, there were only 50 pupils. The school is very poorly furnished in a small compound serving an extremely poor community, where there are many beggar children. No school fees are payable.
In August 2017, after some debate amongst Trustees as to whether we had the resources to take on another project, the Trustees agreed to set up a breakfast club, having received a very generous gesture by one of our current sponsors to fund the breakfast club on an on-going basis.
The incentive of a daily breakfast club meal was enough to get the beggar children into regular schooling, and now the school role has 80 pupils. From September 2017, we have funded breakfasts for 50 children, and intend to increase this to the whole school population in 2018.
During the Chief Officer's visit in 2017, we purchased a computer, printer, table and chair for the school, and purchased food for the families of the 30 beggar children.
In December 2017, from a grant from Futures for Kids, we purchased flooring and equipment for the beggar children's classroom.
Saraswoti Higher Secondary School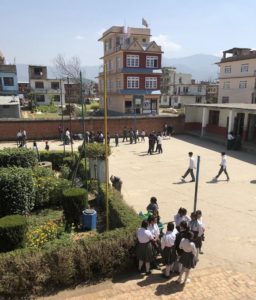 This school currently has 450 pupils with     90 6th formers. It is a school with aspirations.It is situated to the south of the Kathmandu Valley in Techo, an hours drive from Bafal where KIKN Kathmandu is based.
During her visit in September 2018 the Chief officer was able to have an in-depth discussion with the English speaking principal to discuss their priorities.
It appears to be a well run school with limited resources to modernise/update their facilities. Their first priority was to have a fully funded breakfast club. We have been able to set up a new breakfast club from April 2019 (our sixth) for the school feeding 100 pupils a day.
Funding permitting, KIKN will support the school to achieve its aspirations for the future.
Shree Buddha Secondary School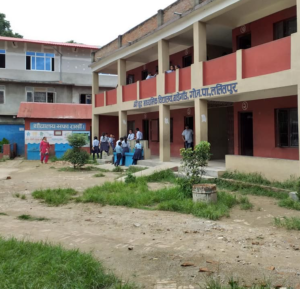 This is KIKN's 6th school that it is supporting. The school was set up over 50 years ago with a handful of children. It now has over 600 pupils with 26 teachers. It takes pupils up to Year 12 (A level) standard.
It is situated on the outskirts of the Kathmandu valley, surrounded by green fields and mountains. It is quite a rural spot. Apart from a few shops, most of the parents either work in the fields or as unskilled labour. Most exist below the bread line.
KIKN started a Breakfast club for 50 children on 1 Sept which the school has expanded with its own resources to 100.
Nepal Adarsha Secondary School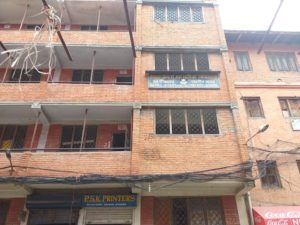 This new school is KIKN's 7th. A small Breakfast club (for 50 children) was started on 1 September.
An inner city school with very little outside space for sports. The school was set up over 60 years ago. It was rebuilt following the 2015 earthquake. The school buildings sit on both sides of a cul de sac.
It has a Smart class where e-learning is the norm. There are just over 300 pupils with 26 teachers.
The school hopes to set up a year 12 class next year to meet the governments requirement. This is a school catering for the children of manual and unskilled parents.
Save Lives Foundation Orphanage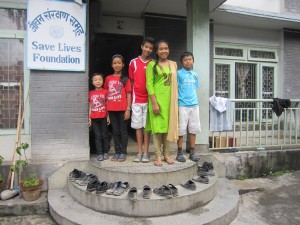 This was the first point of contact for Lai See when she  started her journey in Nepal in 2008. The host mother Uma Mathema is now KIKN's local agent.
In the early years KIKN provided groceries, winter clothing, bedding, storage and kitchen utensils for the children and the home.
A mini generator with a battery was purchased to overcome the regular power cuts in winter. It certainly is safer than lighting candles to study.
The children also enjoy Karate, dancing class and English tuition  at the orphanage. Bicycles were purchased for the children as part of the learning.
KIKN's 40 Sponsored  Children
The children come from the schools we support as well as some that are not. It is through the local knowledge of Uma Mathema that some of these children were brought to our notice. They include the 8 children from the Orphanage. The age range is 7 years to 22 years of age. At the request of both the British Ambassador and the Nepalese Ambassador, there are 34  girls and 6 boys out of  the 40 we sponsor.
Apart from paying for the educational material and fees, all the children receive a pack of clothes  from KIKN on our annual Open Day when Lai See is out there in September. The pack always includes a winter jacket, a pair of tracksuits, vests, underclothing, a woollen scarf, hat, gloves, socks and shoes. Where possible, a new dress for the new year in October. Books and chocolates from UK are  musts, always.
For a table of KIKN Project Spending year by year (click to open)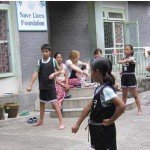 Lai See's journey started in 2008, 11 years later we have achieved so much, but we still need your help!