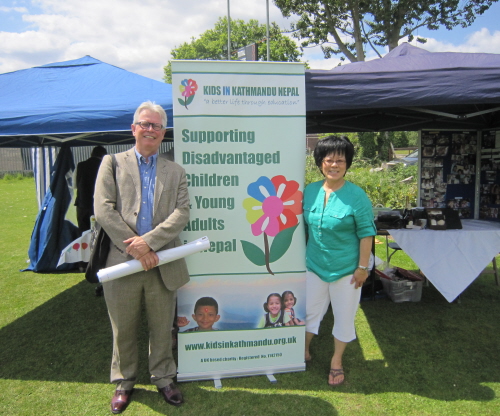 KIKN had another successful mid-year fund raising event at this popular location. A bright, sunny day -earnestly hoped for – was duly delivered right on cue. A healthy crowd of supporters turned up on the day and indulged themselves in a generous spread of delicious cakes, biscuits, tea and coffee.
As always, Bromley Town Cricket Club supported us to the hilt. A very big thank-you goes to both the club and the Weekenders for turning out for Kids in Kathmandu. For those with a cricketing bent, the contest between The Weekenders and the host club was a lively, colourful and entertaining one. To the director of the Bromley Football Club, Barry Wicks, go our thanks for arranging the logistics of background music and a PA system which kept us entertained and informed throughout the day.
Some very generous donations of prizes and bottles ensured the Tombola was a popular and profitable stall, and John Crowe organised a very successful raffle.
All in all, both a glorious and profitable day for KIKN. The proceeds from the day will enable the charity to buy more school desks and floorings for Jana Sudhar school, one of the schools we support in Kathmandu.
Comments
comments