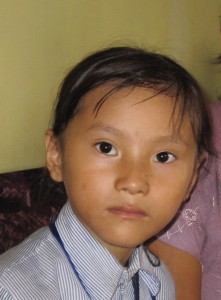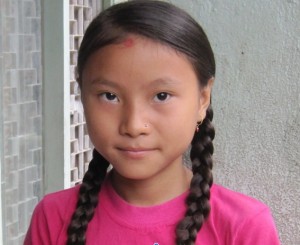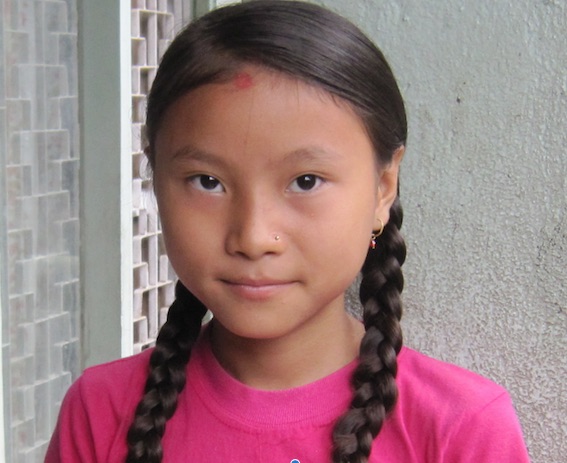 Sunita in September 2017
Sunita
Sunita lives with her parents in a rented room. It is common for many of the families to live, cook, eat and sleep in just one rented room. She has a 6 year old brother whom she cares for.
Her father was working until the previous year when he had a car accident.
He is now disabled and spends his days doing very little.  Her mother leaves home each day before 8 in the morning and often not home before 8 or 9 o'clock in the evening.  She goes from house to house, canvassing for any house work she can find, like a week's washing for a family, cleaning house or any physically demanding work like scrubbing floors etc.
It is a tough way to make ends meet for the family. This has meant that Sunita at a tender age of 8 has the responsibility to housekeep and prepare all the meals  for her family, and cares for her younger brother.  She is a slender girl with very sad eyes. However her face lights up whenever she sees her mother.
They enjoy a very close relationship. Her mother really appreciates Sunita's maturity at such a tender age.  She is a very lovely woman. Her sponsorship has enabled her to have new shoes, uniforms, satchel and all the educational materials for her schooling. She has been able to attend English lessons before school each day, plus the occasional treat of new clothes (at new year etc ) and confectionary.
She was also given a fold up table and an emergency lamp to enable her to continue her studies in the evenings when the winter power cuts set in.  She is making very good progress in school.  Her English language skills are improving according to the school headmistress.
Sunita continues to improve in her studies, and that is reflected in her grades. She is growing up to be a lovely girl, polite and caring towards everyone she meets. In addition, she is quite a 'tough' karate student. Through the Karate classes, she outshines all her contemporaries to win medals @ the International Schools' Karate competition in the last 2 years. She is quietly confident.
2017 update.
Sunita is growing to be a lovely young woman. She is working hard and her grades are improving. She demonstrates her determination to grasp the opportunity KIKN is giving her to reach her potential.