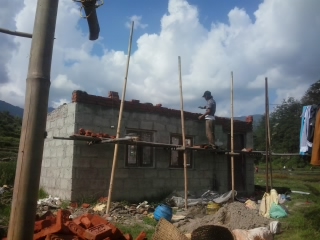 Thanks to each and every one of you, KIKN has received donations to the tune of £16K+ to date. Your generosity has been most touching and overwhelming. KIKN did not expect this level of donation when we launched the appeal 10 weeks ago. Suffice to say , KIKN is now in a fortunate position to help many of the requests made by our children and their families.
To recap, KIKN sent out £7K on 31/5. The money paid for major repair to the orphanage, a water purifier, a year's funding for breakfasts for additional 100 nursery children @ Jana Sudhar School. It is with the hope that they will learn better with a full stomach; a one off payment to all the 32 children we sponsor, and their families. That is to enable them to buy the bare necessities(clothes, cookware etc), an additional meal a day (for 6 weeks only) and a deposit to pay for a new rented room/home. We added a small sum to buy treats for all the children after what they all been through. The photos that came back said it all- beaming faces with big smiles. Everyone is pleased with a little treat to feel good, including the youngsters in the disabled home.
The trustees met yesterday to decide on the priorities with the balance of the money raised-£9K . It has been said that we are playing god at times , trying to decide who is more deserving than the next. Fortunately with the donations received so far, KIKN is able to share out the money to provide assistance to most of the requests that were put forward. The second tranche of the fund raised is mainly go on helping 6 families whose children KIKN sponsors
They include –
A total new build to a former shack/room in a rural part of Kathmandu. The Senjal family was sleeping in the open fields, coping very well until snakes started to come into their tent when the monsoon season starts in earnest in May. Cost @ £1600.
Another family whose children attend Jana Sudhar school are living in dire conditions in a temporary make shift container. Parents are casual labourers earning @ £1.90-£3.12 a day. KIKN will support the children's education and housing needs for a year until they are more sorted, hopefully with the help from the government. Cost @ £1k for one year only
Laxmi is a 16 year old disabled girl, beautiful and articulate. Her home was badly damaged during the earthquake. We are helping the family to repair the home and make it habitable again. She suffers from ? mascular dystrophy of her 4 limbs. Her mother carries her on her back to and from school each day. Laxmi hurt her back during the earthquake. KIKN is providing some therapeutic input to ease her pain. Cost @ £1k
Water purifying equipment is being purchased for Jana Sudhar School . Cost @ £650
Rajeena is a young nursery teacher @ Neel Barahi School. She is the only bread winner in the family of 7 (grandparents, parents and 2 younger brothers of school age). They have been living in the open fields since the earthquake. Their house is so badly cracked that they are not allowed to go back inside the house to retrieve any of their belongings. Soldiers are now deployed to guard these properties to prevent looting. In the midst of all these, Rajeena has returned to school to work, without letting on her personal trauma. It is only recently when a colleague discovered her circumstances that they are trying to raise some money to help her in her plight. Trustees agreed that we would help to pay for the rental for a year @ £80 a month , cost of £960 for one year
Last but not least, Asmita's house. Asmita is KIKN first university undergraduate undertaking Chartered Accountancy. She has just finished her first year. She is in a family of 5- parents and 2 younger brothers. All are bright students in school. They live on the outskirt of rural Kathmandu. Their house was totally destroyed requiring a total rebuild. It will cost all the fund that KIKN has to support the family to rebuild a new house. Trustees have agreed that an initial grant of £1600 will help the family to kick start the process. It is not possible to give them all the money they need and Uma agreed with us.
The cost shown of repairing and rebuilding the various homes are indicative . An example is the Senjal's house. The money was for the repair of the rear wall and the roof. The fact that both the parents decided to save some money by being the labourers themselves have enabled them to have a total rebuild. They now have a new concrete house that will withstand earthquake ( hopefully). The fact that it will be weather proof especially in winter is beyond their wildest dreams.
Uma, our local agent shares the same value and passion as KIKN in wanting to help her fellow country man/woman. However she is also very aware of the potential pitfalls of handling too much money too soon in any given situation. So she is very cautious about what she can promise- managing people's expectations after talking it through with me
I will be travelling to Kathmandu in mid-September for my annual month long trip. I will be taking the remaining funds with me . I am anxious as to what I am going to find. I hope to see all the end results of the money we have raised and spent. It will certainly be good to see the children again, after what they have all been through. They are resilient, brave and so optimistic in such adversity. I take my hat off to them. It is always such a humbling experience when we meet
And a very grateful thanks from KIKN and me, to each and every one of you. Your generosity have helped many families and children ( that KIKN are involved with) to have a little quality of life and encouragement for the children to strive for success because we believe in them, just as you believe in us to continue to do the right thing.
Comments
comments