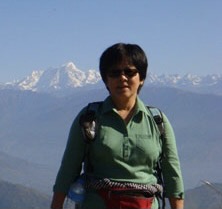 Lai See Chew
1950 – 2021
It is with great sadness, that the Trustees of Kids in Kathmandu Nepal announce the death of Lai See Chew, Founder and Chief Officer of the charity on 8th October 2021.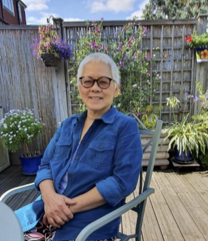 Lai See was diagnosed with advanced pancreatic cancer in January 2021, and with great spirit, good humour and fortitude endured months of gruelling chemotherapy at Guy's Hospital. Throughout, Lai See was supported by her partner, John Crowe (also a KIKN Trustee), a group of close friends, and in the final stages by the palliative care team from St Christopher's Hospice.
Lai See came to the UK from Malaysia in 1968, to train as a registered nurse at Lewisham Hospital, after which she trained to be a health visitor. She subsequently spent all her working life in the NHS in the London Borough of Lewisham, save for a short period towards the beginning of her career, when she worked as a health visitor for SSAFA (the Armed Forces Charity) in Germany. By the time she retired from the NHS in 2007, Lai See had become Head of Nursing for the PCT. To one and all, Lai See was an admired, well-liked and trusted colleague and manager. She was always known for her fairness, tenacity, determination to do the best for her staff and the population they served in Lewisham, and also for her great sense of fun.
After Lai See's retirement from the NHS, and intent on putting her nursing skills to good use, in 2008 she travelled to Kathmandu, Nepal, to work as a volunteer at a local hospital. Lai See started to write a blog and one of the early entries reads 'Young retiree, looking for a focus, bumbling around the world, hoping to put something back'. How prescient this was.
During her time as a hospital volunteer in Kathmandu, Lai See lodged with Uma Mathema at Save Lives Foundation Orphanage, and it was there that the seeds of the Kids in Kathmandu Nepal charity were sown.
On her return to the UK, Lai See encouraged close friends to sponsor the education of the eight children at the orphanage. Lai See returned to Kathmandu to stay at the Save Lives Orphanage the following year, when Uma found more children who needed sponsorship. In fact, Lai See returned to Kathmandu every year, and there were always more children who needed sponsoring.
By 2011, it was clear that Kids in Kathmandu Nepal should be put on a more formal footing, and it was established as a Charitable Company, with a Board of Trustees. From that time the charity has grown from strength to strength under Lai See's tireless drive and leadership. At times, Kids in Kathmandu Nepal (KIKN) was sponsoring up to 40 children and young people, some of whom are now graduates. In its first year as a charity, KIKN raised £16,000, and by the year ending December 2020, the annual income was £70,000. Over the years, more sponsors and donors came forward to support the charity, and two organisations (Futures for Kids and the John Horseman Trust) have contributed significant funds.
From 2011, KIKN started to support some schools in Kathmandu by providing vital equipment, such as computers, desks and nursery classroom furnishings. In 2013, KIKN set up its first breakfast club at a school, and now there are six schools with breakfast clubs supported by KIKN.
Lai See travelled to Kathmandu every year up until 2019, after which travel was halted by the coronavirus pandemic. Lai See generally spent a month staying with Uma at the Saves Lives Foundation Orphanage, overseeing the charity's work. This was always a hectic time, with little time for rest: making contact with all the sponsored children; visiting the schools (some in far flung and difficult to access areas in the Kathmandu Valley); buying clothes for the sponsored children; and organizing the joyous Open Day for sponsored children, their families and representatives from the schools supported by KIKN.
It is fair to say that, without Lai See's commitment from the UK, and Uma's vital yearlong input in Kathmandu, Kids in Kathmandu Nepal charity would not be the organisation that it is today. In 2017, another entry in Lai See's blog says 'As I progress through life, I increasingly believe that positive thinking pays each and every time! Time and time again I have faced a tight or difficult situation, but I have always been optimistic that we will find a way through it….and invariably we do, and I am so grateful'. This was more than evident following the Nepal earthquake in 2015, when KIKN raised £15,000 in 6 weeks for an Earthquake Relief Fund for the children and young people the charity supported. More latterly during the coronavirus pandemic, several food relief programmes were organised for the pupils at the six schools that KIKN supports.
The coronavirus pandemic has caused great hardship in Nepal, and until the very end, Lai See was continuing to oversee the work of KIKN, liaising with key Trustees and with Uma in Nepal to ensure that the charity was able to continue supporting the most vulnerable children and the schools, as best was possible. The Trustees will continue to run Kids in Kathmandu Nepal charity in the spirit that Lai See would have wished, and, pandemic-allowing, some hope to travel to Kathmandu in autumn 2022.
The Trustees extend their deepest condolences to John Crowe, Lai See's partner of more than 35 years. Our thoughts are with John at this time.
We also offer our sincere condolences to Lai See's family in Malaysia, whom she has visited regularly until the coronavirus pandemic stopped all travel, and whom Lai See has not been able to visit in person since 2019, or they to visit the UK during her illness.
Finally, we send condolences to Uma Mathema, in Kathmandu, and to the eight young people at Save Lives Foundation Orphanage, whom Lai See thought of as her second family.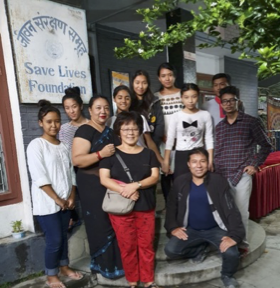 Rest in Peace, Lai See. Thank you for all you have done for Kids in Kathmandu Nepal.
We will all miss you so much.
Comments
comments