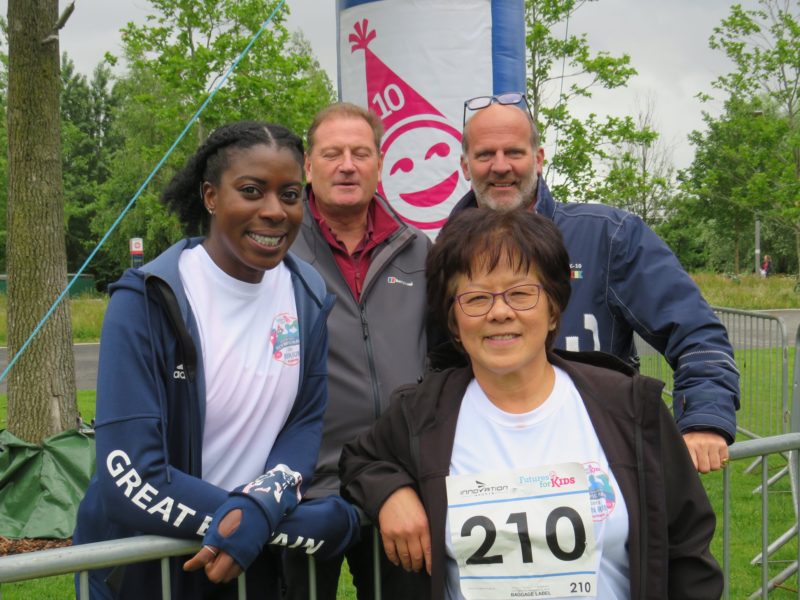 Lai See and Kate ( KIKN trustees), together with another 150 or so runners, took part once again in the annual FFK Fun Run/ Walk to raise funds for our biggest donor – FFK. Positive thinking helped to keep the rain at bay last Thursday at the Queen Elizabeth Olympic Park. It was cool with brief spells of drizzle – the ideal evening for running.
Olympian Christine Ohuruogu was there to start the race. She was popularly sought for her autograph. She presented the winners with their trophies for the fastest times for the 10K and 5K Run.
Both Kate and Lai See finished their run / walk with respectable times, in fact, both ran faster than last year. They raised well over £1,400 for FFK. Many of KIKN's school projects would not have materialised so quickly had FFK not given KIKN generous grants over the past years.
FFK was set up in 2008 by the city traders in the 'Futures' market. They have raised over £3 million in that time, currently supporting over 30 small charities, helping poor and disadvantaged children around the world.
KIKN applauds FFK for their efforts and continued support to small charities to reach the vulnerable children of the world. KIKN thanks them specially for their continued belief in what we do in Kathmandu. Long may the partnership continue !
Thank you once again for the very generous donations from the supporters of KIKN.
Comments
comments