Projects that KIKN is involved in
Shree Neel Barahi Higher Secondary School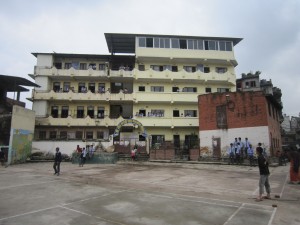 It is a big secondary school with 700+ pupils in 2010 when KIKN first become involved. With KIKN's support, the school has grown from strength to strength. It now boasts of approximately 1300 pupils with a well- resourced Science lab, library and a huge nursery class. It is now  a 'Beacon school'.
KIKN introduced dancing, Karate and English tuition classes to improve the extra curriculum activities in 2011. 35 computers and Solar Panels were purchased in January 2013.  Resources were increased to enable more children to take part in the various classes. KIKN continues to contribute half of the salary of a computer teacher and Karate teacher.
A breakfast club was started in 2012 with 100 children, increasing to 150 in 2018.
Through working together, KIKN had been able to send its first university student in June 2014. She was studying at Neel Barahi. She has since graduated in Business Studies. She was elected as a councillor in her residential area. She is now sponsoring a child in her own right, fulfilling  her promise of helping another when she started working.
KIKN sponsors 10  children from the school, the majority of them are going through A-level classes in 2019.
Jana Sudhar Lower Secondary School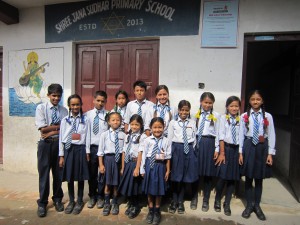 This modest school with just under 350 pupils is situated in one of the deprived areas of Kathmandu. It caters for a very mobile population, many of whom are refugee children from Tibet an the remote mountainside. The main challenge for the school is in meeting the needs of the children in every class where the ages of children vary widely and with different starting points. A 7 year old could share learning with an 11 year old (who has never entered a classroom before).
The nursery class room was fully furnished with low tables and seat cushions along with new carpets. The children increased from 30 to over 50 within months of securing funding and having the furniture made. It demonstrated the scale and speed of migration in and around Kathmandu in 2012. At the time, 2 computers and desks, together with a music centre were purchased as part of improving the facilities in the school.
A breakfast club was started in January 2014 to enable 80 young children to access education and to start their school day well. A second breakfast club was set up following the 2015 earthquake.
KIKN  furnished  and equipped  the new school library and Science lab  in April 2014.
New classroom furniture has replaced the old incrementally over the last few years. KIKN built a water purification plant after the earthquake to give clean drinking water to the children.
KIKN continues to fund the salary of the computer teacher. Sports equipment was also purchased.
KIKN sponsors 2 children from the school.
Lubhoo School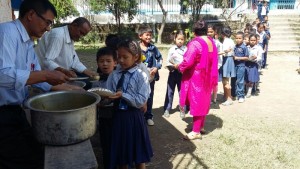 In January 2016 we received a very generous donation from Dr and Mrs Eric Fellows, the sponsors of two of our children, and we were able to take on Lubhoo School as our third school.
It is situated in the Lalitpur district of the Kathmandu Valley, a poor village some 7kms from the city centre (but 13kms via potholed roads). At the time there were approximately 250 children aged from 3 to 16 years. It is now  staffed by a Headmistress and over 30 staff and helpers. It is a state school with basic facilities.
Together with a grant from Futures For Kids, we were able to purchase 20 computers, installed solar panels together with providing new desks and chairs. The school has also made the computers available for the local population to use as well. The extra funding also enabled us to set up a much needed breakfast club for 100 children at the school in 2016.
New class room furniture was purchased, as well as a new Science lab. A Reference library was also set up in preparation for the start of a newly approved vocational college in Engineering in April 2019.
KIKN now sponsors 9 children from the school, the majority of whom are in the junior classes.
Ishwor Adharbhot School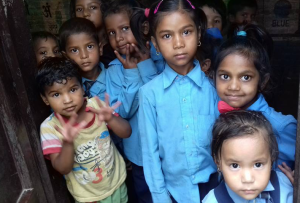 This little school sits in the most deprived area of Kathmandu.
 In September 2016, when the Chief Officer was introduced to this school, there were only 50 pupils. The school is very poorly furnished in a small compound serving an extremely poor community where there are many beggar children. No school fees are payable.  A breakfast club was set up in September 2017. This attracted the 30+ beggar children to start coming to school. The school roll now stands at 85-90. Attendance is erratic. The children now beg in the street before and after school.
KIKN purchased a computer, printer, table and chair for the school, and purchased food for the families of the 30 beggar children in  2017. The Nursery room was fully furnished with additional funding from FFK later in 2017.
Saraswati Higher Secondary School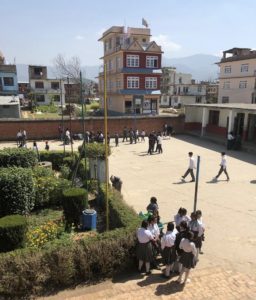 This school currently has 450 pupils with 60 in the A level classes. It is a school with aspirations. It is situated to the south of the Kathmandu Valley in Techo district, an hours drive from Bafal where KIKN Kathmandu is based.
During her visit in September 2018 the Chief officer was able to have an in-depth discussion with the English speaking principal to discuss their priorities.
It appears to be a well run school with limited resources to modernise/update their facilities. Their first priority was to have a fully funded breakfast club. KIKN set up a new breakfast club from April 2019 (KIKN's 6th) for the school feeding 135 pupils a day.
Funding permitting, KIKN will support the school to achieve its aspirations for the future.
Shree Buddha Secondary School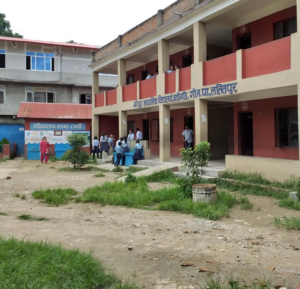 This is KIKN's 6th school. The school was set up over 50 years ago with a handful of children. It now has over 600 pupils with 26 teachers. It takes pupils up to Year 12 (A level) standard , but only in the Arts stream.
It is situated on the outskirts of the Kathmandu valley, surrounded by green fields and mountains. It is quite a rural spot. Apart from a few shops, most of the parents either work in the fields or as unskilled labour. Most exist below the poverty line.
KIKN started a new Breakfast club ( KIKN's 7th) for 50 children on 1 Sept 2019, but has since increased this to funding 75 places, which the school has expanded with its own resources to feeding 150 young children.
With a recent unexpected donation, the 3 nursery rooms are being fully and completely refurnished to provide a conducive environment for learning for the over 60+ young children. In addition, 12 computers were purchased to start Computer Science study in the senior forms in the school.
Nepal Adarsha Secondary School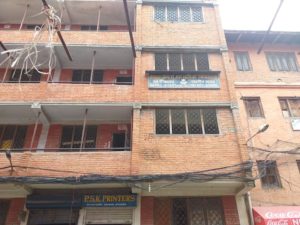 This new school is KIKN's 7th. A small Breakfast club (for 50 children) was started on 1 September 2019.
An inner city school with very little outside space for sports. The school was set up over 60 years ago. It was rebuilt following the 2015 earthquake. The school buildings sit on both sides of a cul de sac.
It has a Smart class where e-learning is the norm. There are just over 300 pupils with 26 teachers.
The school hopes to set up a year 12 class next year to meet the governments requirement. This is a school catering for the children of manual and unskilled parents.
Save Lives Foundation Orphanage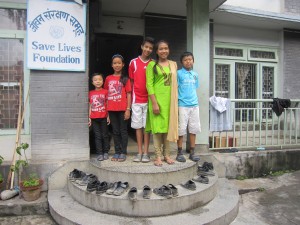 This was the first point of contact for Lai See when she  started her journey in Nepal in 2008. She has been returning each September ever since, staying at the Orphanage. They enjoy a good relationship. To the benefit of KIKN, the host mother Uma Mathema is now KIKN's local agent.
In the early years KIKN provided groceries, winter clothing, bedding, storage and kitchen utensils for the children and the home. A mini generator with a battery was purchased to overcome the regular power cuts in winter. It certainly is safer than lighting candles for the children  to study. The children also enjoy Karate, dancing class and English tuition  at the orphanage.
The 8 children at the orphanage form part of KIKN's sponsored children.
They are the brightest of all the children. 2 of them are now undergraduates at University, one in Pharmacy and the other in Hotel Management. 5 younger ones are in A-level classes, achieving excellent grades. 
KIKN's 40 Sponsored  Children
The children come from the schools we support as well as some that are not. It is through the local knowledge of Uma Mathema that some of these children were brought to our notice. They include the 8 children from the Orphanage. The age range is 7 to 22 years of age. At the request of both the British Ambassador and the Nepalese Ambassador, there are 34  girls and 6 boys out of  the 40 we sponsor.
Apart from paying for the educational material and fees, all the children receive a pack of clothes from KIKN on our annual Open Day when Lai See does her annual visit each September. The pack always includes a winter jacket, a pair of tracksuits, vests, underclothing, a woollen scarf, hat, gloves, socks and shoes. Where possible, a new dress for the new year in October. Books and chocolates from the UK are musts, always.
KIKN now has 2 University graduates, one working as a councillor and the other is applying to be a teacher with 4  undergraduates at University. KIKN is still a long way off living up to its motto ' A better life through education', but we are at least halfway to getting there.
Updated March 2020